Powders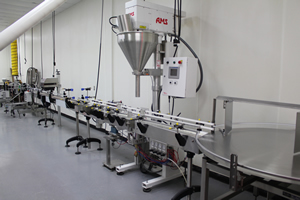 USA Pharmaceuticals & Sports Science is a one-stop-shop providing a full-range of services from concept, research and development, manufacturing, blending, instantizing, and packaging in a wide variety of formats including pouches, jars, stick packs and pails. USA Pharmaceuticals & Sports Science also manufactures dairy and vegetable proteins, nutritional powders, and sports supplements. Its customers include makers of the nation's top-selling branded food and beverage products. USA Pharmaceuticals & Sports Science is a customer-centric, turn-key powder manufacturer. Our teams specialize in delivering best-in-class powdered Sports Nutrition supplements from new product formulation and flavoring, all the way through sourcing, CGMP testing, blending, packaging, and logistics services.
We manufacture for many of the largest sports nutrition companies and global direct sales organizations, to mid-sized brands and niche retailers. We develop strategic relationships with our clients by consistently delivering high-quality products, on-time, for distribution through the retail, direct sales, and direct-to-consumer channels.
All raw materials are blended in stainless steel mixers and manufactured under rigid quality control standards to provide a homogeneous blend and a high degree of product uniformity. The variety of blending equipment at USA Pharmaceuticals & Sports Science will accommodate both small and large batch sizes for optimum efficiency. We have four high speed lines that will accommodate almost any size container. When it comes to nutritional powders, the sky's the limit. With the ability to formulate custom blends, we'll help you find your niche in the growing market for nutritional powders and products. Our unique and flexible development and processing capabilities offer limitless options for products designed to meet a wide array of specialized needs including general health and sports nutrition. Our technical staff works with you to improve current formulas or help you develop your own private label line or great tasting products.

USA Pharmaceuticals & Sports Science also has (3) Enflex powder machines, which is one of the most successful packing machines within the powder pacquette and bag arenas. Special attention has been paid to the design of its components with regard to easy handling low maintenance costs, incorporating pressure regulation systems independent from the sealing clamps, foldable upper sealing, etc. Our F-14 Enflex has the possibility of incorporating a zipper module and special cut die.
Whether you're looking to develop a new powder or simply needing to perfect your powder's performance, look to USA Pharmaceuticals & Sports Sciences formulation and application support to ensure your product's success. We have a breadth of expertise in a number of industry segments and our innovative solutions reflect our understanding of different powder applications. Your new powder product is a guaranteed success with our staff's extensive background in formulation, flavor and nutraceutical delivery systems.
USA Pharmaceuticals & Sports Sciences offers additional turnkey powder processing and packaging solutions. From PET and HDPE containers and jugs to stick pouches, bags and pacquettes or sachets, we have everything you need to package and deliver your powder product to the shelf; and we are always willing to develop a new packaging alternative with you to ensure an innovative solution tailored to suit your specific product's needs.