Beverages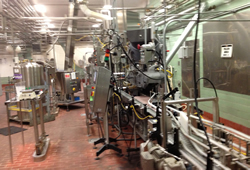 As the industry's leading energy drink manufacturers for nearly a decade, we have the knowledge, experience and resources necessary to create a winning product for you! USA Pharmaceuticals & Sports Science is a beverage contract manufacturing company with the turnkey expertise to help guide your product from conception to shipping. We provide a full service of beverage co-packing services, including research and development, raw material procurement, product development.
Our liquid blending and tank facility was designed and built to be perfectly suited to the needs of dietary supplement manufacturing. Our stainless steel tanks can accommodate a wide range of batch sizes and our specialized blending, hot filling and pasteurization equipment can make even the most challenging combination of ingredients work well in a liquid product. Our autmated process control software allows us to produce very consistent products batch after batch, and our Quality team supervises each step throughout the process.
Our bottling operation is sophisticated enough to handle a wide variety of packaging configurations. Our multiple liquid filling lines give us the capability to pack products in glass and plastic, from very small sizes to large bulk packages. Both rotary and in-line filling operations allow us great versatility in the types of cap and bottle combinations that we fill, and a broad range of coding and labeling options help us meet the diverse needs of the brands that we serve.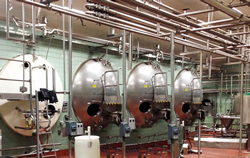 The depth of our turnkey ability sets us apart from the typical beverage bottling company. One of the reasons for that turnkey depth is our 67,000-square-foot facility, which is equipped with the most advanced drink bottling machinery available. We operate three filling lines, configurable for a wide variety of PET plastic or glass bottle shapes and sizes. We are also versatile, as demonstrated by our ability to hot fill or cold fill with flash pasteurization – a combination of services that few drink bottlers can match. Our quality control/quality assurance measures are second to none among drink bottlers.
USA Pharmaceuticals & Sports Science provides a number of services to our clients on both the co-packing and manufacturing levels. Simply provide the materials and we will turn them into shelf-ready, finished products. We also offer Turnkey Solutions, making us both a bottling company and a beverage manufacturer. We can handle the needs of any client who is in the industry of ready to drink beverages and liquid dietary supplements.
Our spacious 67,000 ft2 is equipped with the latest in beverage manufacturing and co-packing technology. Our newly renovated facility has both cold and hot fill lines We specialize in plastic bottles that range in sizes between 2 ounces and 24 ounces. At the heart of our operation is a knowledgeable and experienced team that can efficiently transform your idea into a shelf-ready, fresh and functional beverage product.
On the beverage manufacturer front, USA Pharmaceuticals & Sports Science has a wide variety of ready to drink (RTD) beverages including:
Functional Drinks

Sports Drinks

Energy Drinks & Shots

Juice Drinks

Flavored Water

Teas
A beverage contract manufacturing company is only as good as its people, and we feature some of the very best. Our team has more than a decade of experience in the beverage co-packing industry, and our depth of knowledge goes hand-in-hand with a commitment to the best customer service in the drink bottling industry. Additionally, our pricing is extremely affordable when compared to equivalent beverage manufacturers.