Encapsulation
USA Pharmaceuticals & Sports Science facilities are equipped with over (20) high-speed automatic and (7) semi-automatic encapsulating machines with capabilities to produce two-piece hard shell gelatin, liquid capsules, and vegetarian capsules in sizes including 0, 00, and 1-4 sizes. The fully automatic machines can produce at up 140,000 capsules per hour to offer a high yield capacity per shift. Our semi-automatic encapsulating machines offer additional flexibility to manufacture small batch sizes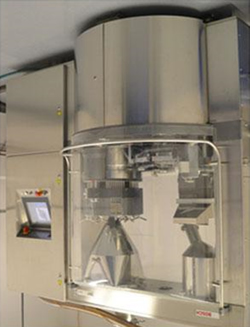 based onthe product needs of our customers.
Annual Capsule Capacity 10 Billion Capsules
We have Encapsulators from Bosch, Index, MG America, and Zanasi. For example, we have (1) MG America 140 encapsulator which will run 140,000 tablets per hour and will also run tabelts or pellets. We also have (1) Bosch 2000 and (5) Bosch 1500 encapsulators rated at 90,000 capsules per hour. We have (4) Index 1500 and 150i capsule fillers rated from 90-120,000 capsules per hour. We have (4) MG100 capsule fillers that run 90,000 capsules per hour. We have (7) Zanasi 40 capsule fillers rated at 40,000 capsules per hour. One of our Zanasi and Index 40 capsule fillers also have liquid heads to do liquid filled capsules.
USA Pharmaceuticals & Sports Science has multiple sets of change parts for 00,0,1,2,3,and size 4 capsules. This enables us to knock most jobs out in less than a week. We also have 5 Mocon Vericap 2500 capsule check weighers that allows us to set our tolerances for example +/- 3% and if the capsule did not meet the correct fill weight it will reject the capsule at 2500 capsules per minute.